I know it's winter right now, but if you're like me, you're ready to hop off the stationary bike and hit the trails. I am presenting this list, from my personal archives of goals, for scenic bike trails in North America.
Carriage Trails, Maine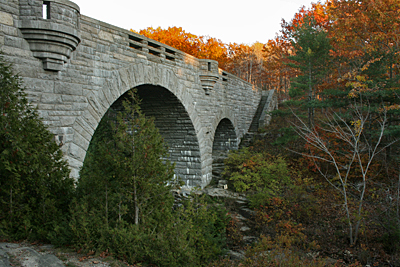 On the already beautiful Mount Desert Island, in the heart of Acadia National Park, lies the gorgeous biking area named Carriage Trails. This trail was created by John D. Rockefeller between 1913 and 1940. The trail, shared by bikers, hikers, and carriages,  spans 45 miles around the various terrains of Mount Desert Island. This is one trail that I have personally been on, and I rode to the Jordan Pond House. My childhood memories are rich with this place, and I have many pictures to back them. The area is filled with beautiful picture opportunities, and has trails for anyone, beginner to advanced.
Big Sur, California
Big Sur is a trail along the coastline of California, overlooking the Pacific Ocean. The trails spans nearly 100 miles, and has  a number of scenic stops, including the incredible Hearst Castle. While the trial is magnificent, it also has a great deal of hills, including a 6.5 mile climb, with an average incline of 8%.  Therefore, it is not recommended for inexperienced bikers. Regardless, this scenic trail is beautiful all year round, and should be experienced by everybody.
The C and O Canal, Various States
The Chesapeake and Ohio Canal is a canal from that spans from those respective locations. This National Historic Park is the home a 185 mile bike trail, that follows the towpath of the canal. The trail is relatively flat, and has all the scenery of a canal. Locks, bridges, tunnels… the whole nine yards. I have only biked small portions of this trail, but never the full 184.5 miles.  However, of the small bit I have seen, it is magnificent. I, as well as many others, recommend this trail.
Cedar Rock Trail, North Carolina
This trail is an advanced mountain biking experience for serious trail riders.  It climbs the Cedar Rock to a splendid peak with a view.  The trail is littered with loose rocks, and steep inclines. At 4.5 miles, it doesn't seem very intimidating, but regardless, the trail is the real deal. All that danger is worth it though for the magnificent view at the top of Cedar Rock.
Flume Trail, Nevada
The notorious Flume Trail is a moderately difficult ride, but is often peoples first "dirt trail"ride.  It stretches 14 miles, and climbs about 1100′, with a 1000′ incline in the first 4.5 miles.  The trail overlooks Lake Tahoe, and is not a very technical ride, starting on a smooth fire road.  There is 4.5 miles of a single track riding, creating a slight element of danger and adventure, but still a relatively safe ride. There is a shuttle service and bike rental shop that helps run the trail, making this a great trail for people less experienced in trail riding.
With these trails, you should be perfectly motivated for the upcoming season.  Dust off the seat, and start making travel arrangements.  Even if its not on these trails, get out there and bike.  It's a great way to see the world, make new friends, and stay in shape. Happy riding!
Image Sources:
https://www.pressherald.com/wp-content/uploads/2011/05/portland-press-herald_3544033.jpg
https://holeinthedonut.com/wp-content/uploads/2008/10/acadianationalpark-duckbrookcreekcarriageroad.jpg
https://i.ytimg.com/vi/Q1cxolHbP_E/maxresdefault.jpg
https://1.bp.blogspot.com/_E1tEsdn7gHE/S9jBWdSd9UI/AAAAAAAADsU/ex2ecv5XbLs/s1600/big_sur_marathon_2010-13.jpg
https://www.freedomtrailriders.com/sitebuilder/images/Woodbury_Paw_Paw-565×390.jpg
https://www.carolinamountain.org/sites/default/files/images/Hiking%20Challenge%202/CedarRock.jpg
https://www.aboutlaketahoe.com/mountain-biking/flume-trail/images/overhang.jpg
https://ethel.tahoeguide.com/tahoe/6/tahoeguide/site/graphics/activities/biking/flume_view1.jpg